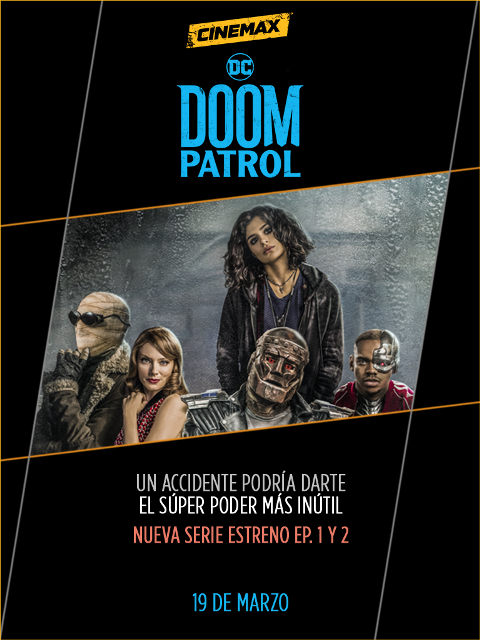 La serie que reinventa a uno de los grupos de súperhéroes marginados más queridos de DC Comics llega el 19 de marzo
El universo de DC Comics llega al canal CINEMAX con el estreno el próximo jueves 19 de marzo de la serie de superhéroes DOOM PATROL.
Basada en los personajes de DC Comics creados por Arnold Drake, Bob Haney y Burno Premiani, DOOM PATROL sigue, a lo largo de 15 capítulos, a los marginados miembros de una banda de súper héroes con habilidades sobrehumanas adquiridas después de sufrir terribles accidentes. El grupo de Doom Patrol se une al científico Doctor Niles Caulder, también conocido como The Chief/El Jefe, para investigar la existencia de extraños fenómenos y salvar a la Tierra de los mismos. Producido por Berlanti Productions en asociación con Warner Bros. Television, DOOM PATROL es uno los nuevos contenidos y series que se estrenan en exclusiva por CINEMAX.
Protagonizada por Brendan Fraser (Crash, The Mummy, Gods and Monsters) como Robotman/Cliff; Matt Bomer (White Collar, American Horror Story, The Normal Heart) como Negative Man/Larry Trainor; April Bowlby (Two and a Half Men, How I Met Your Mother) como Elasti-Woman/Rita Farr; y Diane Guerrero (Orange is the New Black) como Crazy Jane. El equipo de Doom Patrol es comandado por Timothy Dalton (The Living Daylights, License to Kill) el científico Doctor Niles Caulder/The Chief y llamados a la acción por Joivan Wade (The First Purge, Doctor Who) alias Cyborg. El elenco también integra a Alan Tudyk (Powerless, Rogue One: A Star Wars Story Suburgatory) como Mr. Nobody.
Desarrollada por Jeremy Carver (Supernatural, Frequency, Being Human), DOOM PATROL es producida por Geoff Johns (Suicide Squad, Aquaman, Wonder Woman, Justice League), Greg Berlanti (Arrow, Titans, The Flash, Supergirl, DC's Legends of Tomorrow), Sarah Schechter (Supergirl, Riverdale, Blindspot) y Chris Dingess (Agente Carter, Eastwick, Kevin (Probably) Saves The World).